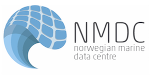 Seamless access to Norwegian marine data
Institute of Marine Research
Normalverdier for saltholdighet og temperatur i Havforskningsinstituttets faste snitt
Recommended citation:
To cite this dataset use the following:

Usage :
Creative Commons Attribution 4.0 International License
Abstract
Normalverdier for saltholdighet og temperatur er beregnet i 8 av Havforskningsinstituttets faste snitt, for å kunne rapportere snittenes måleresultater som anomalier i forhold til snittets og årstidens middelverdier. Hydrografiske målinger for perioden 1980-1999 er utgangspunktet for disse beregningene. Alt etter hvor ofte og når målingene gjennomføres i de forskjellige snittene, er fra en til seks 5-ukers perioder plukket ut.
EARTH SCIENCE> OCEANS> OCEAN TEMPERATURE> WATER TEMPERATURE
EARTH SCIENCE> OCEANS> SALINITY/DENSITY> SALINITY
2f7afc69539f3a112d713cc828a286dd.xml
No Spatial coverage