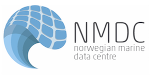 Seamless access to Norwegian marine data
Institute of Marine Research
Fast oseanografisk stasjon - Lista (1942-)
Recommended citation:
To cite this dataset use the following:

Usage :
Creative Commons Attribution 4.0 International License
Abstract
Langtidsserier av oseanografiske stasjoner på faste steder og i standard dyp. Observasjonene utføres av lokale fiskere. Lista er en av for tiden 8 stasjoner i drift. Alle oseanografiske data er bearbeidet og delvis kvalitetskontrollerte. Enkle meteorologiske observasjoner blir normalt tatt (ingen kvalitetskontroll).
EARTH SCIENCE> OCEANS> OCEAN TEMPERATURE> WATER TEMPERATURE
EARTH SCIENCE> OCEANS> SALINITY/DENSITY> SALINITY
58.0833
58.0833
6.5333
6.5333
0
300
69ce520413fd24054056aae45ac85040.xml
No Spatial coverage