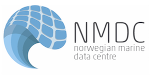 Seamless access to Norwegian marine data
Institute of Marine Research
Barents Sea ecosystem survey fish diversity data export 2006 NO
Recommended citation:
Rupert Wienerroither, Herdis Langøy Mørk, Edda Johannesen
(2021)
Barents Sea ecosystem survey fish diversity data export 2006 NO
To cite this dataset use the following:

Usage :
Creative Commons Attribution 4.0 International License
Abstract
Fish (all species) catches from bottom trawls- for details see Johannesen et al (2021). The input data is from the Barents Sea NOR-RUS ecosystem cruise in autumn (survey report ref), norwegian vessels only. Please consider pooling eelpouts and liparids to the family level and removing observervations listed in Appendix 2 in Johannesen et al (2021).
EARTH SCIENCE> BIOLOGICAL CLASSIFICATION> ANIMALS/VERTEBRATES> FISH
a8abc3c42fabbd8a1dc23c3cb0f31495.xml
No Spatial coverage