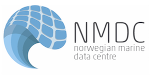 Seamless access to Norwegian marine data
University of Bergen
One Ocean Expedition - LEG 2 - Underway PCO2
Recommended citation:
Maike Becker
(2021)
One Ocean Expedition - LEG 2 - Underway PCO2
To cite this dataset use the following:

Usage :
Creative Commons Attribution 4.0 International License
Abstract
The CO2 data onboard Statsraad Lehmkuhl are measured with a General Oceanics pCO2 system (GO 8050). This dataset consists of the raw data from the instrument. The system consists of an equilibrator, through which seawater is pumped with a flow of about 3L/min. A spiral nozzle forms a regular spray, so that the water and the gas phase achieve equilibrium fast. The gas phase is then pumped through a NDIR analyzer (Licor, LI 7000), which measures mole fraction of carbon dioxide. The system is equipped with one zero and 3 non-zero reference gases. Intake temperature is measured with a Fluke 1521. Equilibrator pressure is measured with an absolute pressure sensor (GE Druck 81). This installation was financed by the Geophysical Institute/University of Bergen and ICOS.
EARTH SCIENCE> OCEANS> OCEAN CHEMISTRY
Key words:
Oceanography, Chemistry
a933a5fa6bf38213e0fffa03c3d27dee.xml
No Spatial coverage